Garden Maintenance Services
Require professional support for your garden?
Keeping your garden space green, vibrant and healthy is a job for the specialists, and that is where our expertise matters.
Here at Top Garden Services, we believe in making every outdoor space beautiful, functional, one-of-a-kind and easy on the eye.
Rely on the team from Top Garden Services for a tailored garden maintenance services. We cater to both domestic and commercial clients all over east of England.
Just let us know what you're looking to achieve with your garden space and we can take care of the rest. 
Our garden maintenance services include...
Lawn maintenance turning out to be a chore that you don't have time to do anymore? Turn to the professionals at Top Garden Services to take care of all your garden maintenance needs. With us, it is easy to get the lawn you've always wanted.
We go the extra mile to make sure that you are entirely satisfied with our work.
Have a particular project that requires professional attention? We're ready to tackle even the most complex custom projects.
The cost of garden maintenance will depend on several factors including:
How many services you require for your visit and the number of visits needed per year.
Using our years of know-how we can advise on the best course of action for your garden
Depending on the complexity and size of your garden, we can estimate how many visits you will require over the course of a year.
We work all year round, so we're not limited to just the spring and summer months!
No, you're not confined to a contract although we do charge a late cancellation fee if your maintenance is cancelled by you within 24 hours of our visit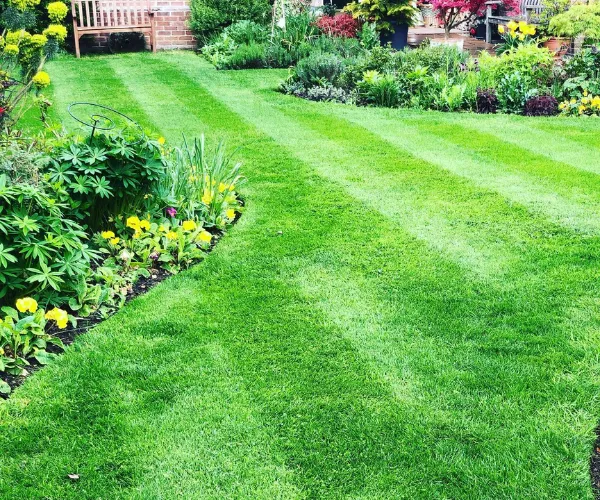 Garden maintenance duration will depend on the size of your garden and what needs attention, but usually we will wrap up a visit and get your garden looking in tip top shape within 1-2 working days.
If required, we can take away all garden waste generated form your maintenance visit. Please inform us when booking.
Our garden maintenance services are bespoke to you – so we won't charge you for services that your garden simply doesn't need! 
We'll be able to advise on our initial visit, or through images sent from you, the types of services your garden will benefit from.
To help us give you an accurate estimate, please attach up to ten photos or a video of your garden with a description of what you require.
Contact us for garden maintenance services
We're more than happy to talk through your garden maintenance requirements and advise you on the best course of action for your garden.
There are many ways to get in touch with us, but for the quickest response please use our contact online contact form here.
If you can – please include photos or videos with your submission, as this will greatly aids us with providing you an quicker, accurate estimate.
Looking for our Lawn Care Calculator?
Get an instant estimate on lawn cutting for your home or business.