Gardening and Tree Services in Norfolk, Suffolk & Cambridgeshire
From grass cutting to lawn care, hedge cutting to tree services, make Top Garden Services your preferred gardening and grounds maintenance company to turn your garden dreams into reality!
Our Garden & Tree Services
We provide horticultural and arboricultural services to both domestic and commercial customers across Suffolk, Norfolk and Cambridgeshire.
Working to the British Standard 3998:2010, our operatives are trained to carry out various pruning operations such as crown reduction, crown thinning, crown lifting, deadwood removal, pollarding programs and street tree pruning.
With our specialised equipment and years of experience, we can get the work done quickly and safely. We also ensure that your site is clean and free from waste once our job is complete!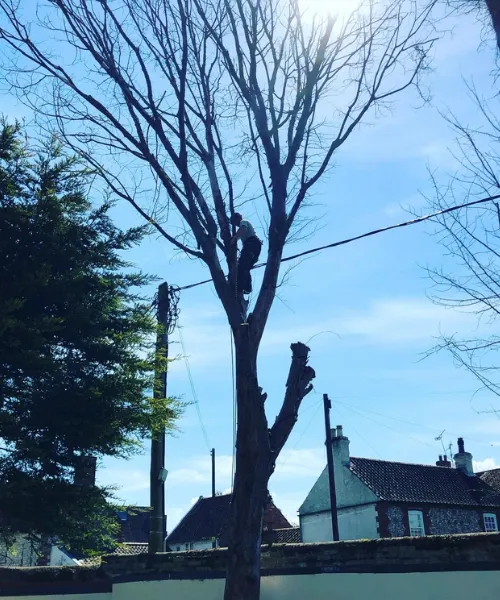 We provide expert professional tree surgery services for your home or business.
Our experienced team of arborists are qualified and certified to handle all types of tree trimming, pruning, and removal.
We use the latest techniques and equipment to ensure safety and accuracy.
Our hedging services provide a great way to add beauty and privacy to your outdoor space.
We create beautiful, customised hedges that enhance the look and feel of your garden. We offer a variety of services, including hedge trimming, hedge removal, hedge planting, and more.
Our lawn care services provide a comprehensive range of services to keep your lawn looking beautiful and healthy.
From grass cutting and edging to aeration and fertilization, we use the latest techniques and equipment to ensure your lawn looks its best.
Looking for our Lawn Care Calculator? 
Looking to spruce up your garden?
Whether you already have a vision for your garden or you require some extra help, our garden maintenance service can cater for you.
We can help transform your old tired garden into an eye-catching oasis – perfect for inviting your friends or guests over to enjoy the predictably unpredictable British weather!
Make your outdoor space look its best with Top Garden Services
We provide comprehensive garden services in East Anglia throughout Norfolk, Suffolk and Cambridgeshire
From lawn mowing, hedge trimming and garden clearances to tree surgery garden makeovers. With years of experience in the industry, we offer a professional and reliable service, tailored to your exact needs.
Contact us today to discuss how we can bring your garden to life!
The Green Touch of a Family Hand
We're a family run business with close to 15 years of experience and a passion for what we do, the team at Top Garden Services easily undertake garden maintenance projects for commercial and domestic customers throughout the East of England.
We specialise in grounds maintenance and tree services. For more information, please get in touch with us today.
Trusted by local customers & businesses
To help us give you an accurate estimate, please attach up to ten photos or a video of your garden with a description of what you require.
Contact us for expert garden advice
Looking for a reliable and affordable garden service business in East Anglia? Look no further than Top Garden Services!
We're more than happy to talk through your garden requirements. There are many ways to get in touch with us, but for the quickest response please use our contact online contact form here.
If you can – please include photos or videos with your submission, as this will greatly aids us with providing you an quicker, accurate estimate.
Looking for our Lawn Care Calculator?
Get an instant estimate on lawn cutting for your home or business.